Timeline: Ajmal Kasab's journey to the noose
The following is the chronology of events in 26/11 terror attack case in which the Supreme Court (SC) today upheld the death sentence of lone Pakistani terrorist Mohammed Ajmal Amir Kasab:
Nov 26, 2008: Kasab and 9 terrorists launched acommando raid in Mumbai.
Nov 27, 2008: At 1.30am, Kasab caught and placed under arrest, admitted to Nair Hospital.
Nov 29, 2008: All places under siege secured, 9 terrorists were killed.
Nov 30, 2008: Kasab confesses before police.
Dec 27/28, 2008: An identification parade was held.
Jan 13, 2009: ML Tahaliyani was appointed the 26/11 judge.
Jan 16, 2009: Arthur Road Jail was selected for Kasab's trial.
Feb 5, 2009: Kasab's DNA samples match with articles found in Kuber.
Feb 20/21, 2009: Kasab made a confession before the magistrate.
Feb 22, 2009: Ujjwal Nikam was appointed special public prosecutor.
Feb 25, 2009: A charge sheet against Kasab, two others were filed in court.
Apr 1, 2009: Anjali Waghmare was appointed Kasab's lawyer.
Apr 15, 2009: Anjali Waghmare was removed as Kasab's lawyer.
Apr 16, 2009: Abbas Kazmi was appointed as Kasab's lawyer.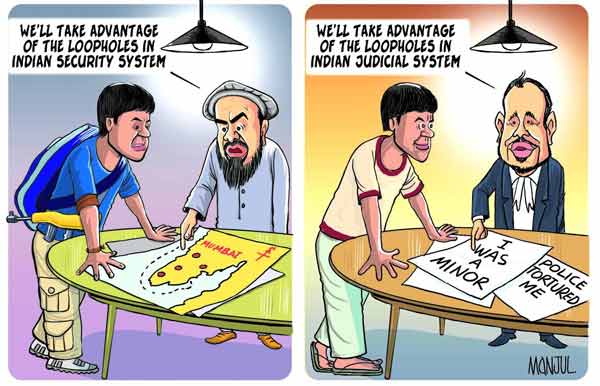 Apr 17, 2009: Kasab's confession was opened in court, he retracted.
Apr 20, 2009: The prosecution charged Kasab on 312 counts.
Apr 29, 2009: Experts opined that Kasab was major, .
May 6, 2009: Charges were framed, Kasab charged on 86 counts, but he denied the charges.
May 8, 2009: The first eyewitness deposed and identified Kasab.
June 23, 2009: Non-bailable warrants issued were against 22 including Hafeez Saeed, Zaki-ur-Rehman Lakhvi.
Nov 30, 2009: Abbas Kazmi was removed as Kasab's lawyer
Dec 1, 2009: KP Pawar took the place of Kazmi.
Dec 16, 2009: The prosecution completed its case in 26/11.
Dec 18, 2009: Kasab denied all charges.
March 31, 2010: The arguments in the case end. Special Judge ML Tahaliyani reserves judgment for May 3, 2010.
May 3, 2010: Kasab was convicted, Sabauddin Ahmed and Faheem Ansari were acquitted of all charges.
May 6, 2010: Kasab was sentenced to death by the trial court.
Feb 21, 2011: The Bombay High Court upheld the death sentence to Kasab.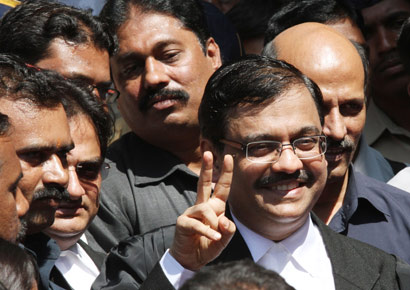 March 2011: Kasab wrote a letter to the SC challenging the HC order.
Oct 10, 2011: The SC stayed the execution of the death sentence awarded to the Pakistani terrorist
Oct 10, 2011: Kasab told the SC that he was brainwashed like a "robot" into committing the heinous crime in the name of "God" and that he did not deserve capital punishment owing to his young age.
Oct 18, 2011: The Supreme Court admited the Maharashtra government's appeal challenging the acquittal of Faheem Ansari and Sabauddin Ahmed, co-accused of Ajmal Kasab, in the 26/11 Mumbai terror attack.
Jan 31, 2012: Kasab told the SC that he was not given a free and fair trial in the case.
Feb 23, 2012: The SC heard intercepted conversations between the perpetrators of 26/11 Mumbai terror attack and their Pakistani handlers and watched the CCTV footage of the carnage.
Apr 25, 2012: The SC reserves its verdict after a marathon hearing, spanning over two and a half months.
Aug 29, 2012: The SC upheld the death sentence of Kasab and the acquittal of two alleged Indian co-conspirators in the case.
Kasab's was a unique case: ATS chief Maria
Maharashtra ATS chief Rakesh Maria on Wednesday said that the trial and sentencing of Pakistani terrorist Ajmal Kasab was culmination of a "unique" investigation, and a daunting task accomplished by various agencies.
"It was a unique investigation in which 657 witnesses were examined and investigating agencies from all over the world were involved," he said, reacting to the Supreme Court ruling upholding the death sentence for Kasab.
The investigation was challenging, Maria said, as the conspiracy had been hatched on the foreign soil and the terrorists were well-equipped. The ATS was still hunting for the remaining accused, most of whom were in Pakistan, he said.
He thanked various departments of Mumbai police, forensic department and special public prosecutor Ujjwal Nikam for their efforts.
Referring to the probe of low-intensity blasts in Pune on August 1, Maria said ATS would try to get a break-through in the case before the Ganesh festival as directed by the state government. The investigation in the J M Road blast was making a good progress, he added.
Vociferous demand to execute Ajmal Kasab at the earliest

The Supreme Court verdict upholding the death sentence of Ajmal Kasab in 26/11 Mumbai attacks case on Wednesday led to a vociferous demand for execution of the Pakistani terrorist at the earliest from parties, kin of the victims and other quarters in the country.
Home Minister Sushilkumar Shinde said government, on its part, will ensure that if Kasab files a mercy plea, it is disposed of in minimum time and asked Pakistan to punish other perpetrators who have taken shelter on its soil.
"…Now, he should be given complete sentence quickly. Punishment should be executed quickly," Congress General Secretary Digvijay Singh said reacting to the Supreme Court verdict on Kasab's appeal against his conviction and sentence.
BJP leader Mukhtar Abbas Naqvi said, "Those who wage war against the country and kill innocents deserve no mercy…. Kasab should be hanged without any delay … enough of 'biryani' for him."
Describing Pakistan as "a terror factory", he said the government "must take all steps to destroy" terror infrastructure and sought a separate set of laws to deal with terror-related cases.
"No leniency should be shown against this kind of a terrorist. They have tried to destroy the peace of the nation, so he (Kasab) should be hanged as fast as possible," Naqvi said.
Welcoming the verdict, the ruling Congress also favoured quick execution of Kasab.
Law Minister Salman Khurshid described the judgement as "inevitable" and rejected suggestions of delay in the final verdict saying a country governed by rule of law cannot mete out street justice.
"I had seen the Bombay High Court judgement. It was very, very complicated judgement for the judiciary to have given. They must have worked very hard on it. That's been upheld by the Supreme Court. I think most people who do analysis of law would say this was an inevitable endorsement that would have come," he told reporters in Delhi.
Special public prosecutor Ujjwal Nikam, who led the case against Kasab during the trial process, said the death sentence awarded to Kasab should be executed as soon as possible so that it gives a strong signal to the terrorists that law takes stern action against such acts.
He also demanded that he prosecution against perpetrators of the 2008 terror strikes should now be expedited by the prosecuting agency of Pakistan, he said.
"The (prosecution in Pakistan) should not delay the trial on the ground that India has to furnish evidence because conspiracy behind the terror attacks was hatched in Pakistan and it is for them to prove the same," Nikam said, adding the apex court in India has also held that criminal conspiracy behind the attacks was hatched in Pakistan.
Eknath Ombale, the brother of assistant sub-inspector Tukaram Ombale who died fighting terrorists during the 26/11 terror attacks, said if Afzal Guru had been hanged 10 years ago, then 26/11 and 13/7 incidents would not have happened.
"We are very happy with the verdict. We are now waiting for it to be implemented," he said.
"The truth has come out before the world. I request the government to implement the sentence," he mentioned.
"Had Afzal Guru been hanged 10 years ago, maybe 26/11 and 13/7 wouldn't have happened," he said.
"All Indians are awaiting the moment when Kasab will be hanged," Ombale said.
Kasab clever & shrewd, kills without a twinge of conscience: SC
Pakistani terrorist Ajmal Kasab is "quite clever and shrewd" and killed without "the slightest twinge of conscience" said the Supreme Court today, dismissing his plea for leniency on purported ground that he was brain washed by Lashkar-e-Toiba and acted like a robot.
"We are unable to accept the submission that the appellant was a mere tool in the hands of the Lashkar-e-Toiba. He joined the Lashkar-e-Toiba around December 2007 and continued as its member till the end, despite a number of opportunities to leave it.
This shows his clear and unmistakable intention to be a part of the organisation and participate in its designs," said a bench headed by Justice Aftab Alam.
"It is true that he is not educated but he is a very good and quick learner, has a tough mind and strong determination. He is also quite clever and shrewd," it further said.
The court said Kasab has many times described himself as a patriotic Pakistani and has no remorse for waging war against India.
"Even after his arrest, he regarded himself as a 'watan parast,' a patriotic Pakistani at war with this country. Where is the question of his being brain-washed or acting under remote control? We completely disagree that the appellant was acting like an automaton. During the past months while we lived through this case, we have been able to make a fair assessment of the appellant's personality," the bench said.
"Unfortunately, he is wholly remorseless and any feeling of pity is unknown to him. He kills without the slightest twinge of conscience," the bench said.
Kasab verdict an important milestone: Crime Branch
The Mumbai Crime Branch, which probed the 26/11 terror attack case, has termed as the "important milestone" the Supreme Court verdict upholding death sentence of Pakistani gunman Ajmal Kasab.
"The Supreme Court's judgement is an important milestone in fight against terrorism," Joint Commissioner of Police (Crime) Himanshu Roy told a press conference.
On the role of Pakistan, the crime branch chief said, "Abu Jundal's interrogation further reveals role of Pakistan in exporting terror to our country and his links with LeT".
Jundal, suspected to be one of the key 26/11 handlers, was deported to India by Saudi Arabia and is currently in the police custody in connection with the 2006 Aurangabad arms haul case.
"Crime Brnach is collecting very strong evidence against Jundal," Roy said.
"Those martyrs who laid down their lives to nab Kasab should be given a tribute today," he said.
"Without them (martyrs) nabbing Kasab and his conviction would not have been possible and those behind the terror strikes exposed," Roy said.
SOURCE : PRESS TRUST OF INDIA
Related articles