Apple plans to make iOS 7 available in the fall.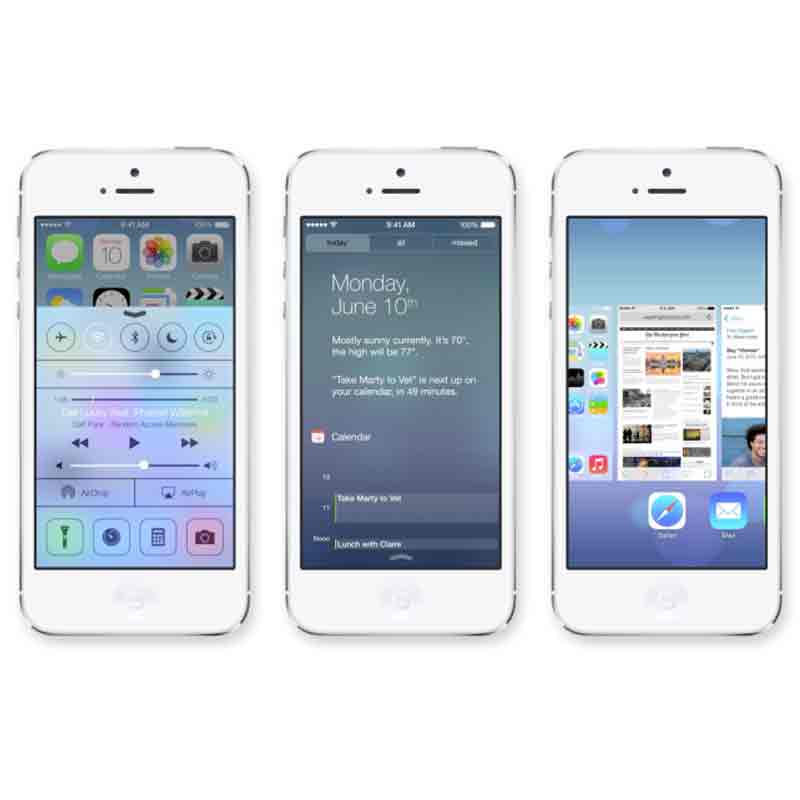 Apple unveiled its biggest change to its operating system on the iPhone.
The operating system has been given a radical visual overhaul, described as the "the biggest change to iOS since the introduction of the iPhone," by Apple CEO Tim Cook.
As Apple kicked off its annual conference in San Francisco for its developers, the executive gave a detailed comprehensive explanation on all the new features in the new operating system.
The key features on iOS 7 are:
Notifications Centre: The notifications panel isn't laced with dark grey linen anymore, but actually has a very flat look to it. There is a today view, that lets you see friends birthdays, upcoming invitations, calendar, stocks, and a quick look at tomorrow.
Multitasking: If you have an app that you're always using, iOS 7 will make note of that and make sure its updating in the background. So if you tend to check your favourite social app at 9:00 am every day, your feed will be ready and waiting for you.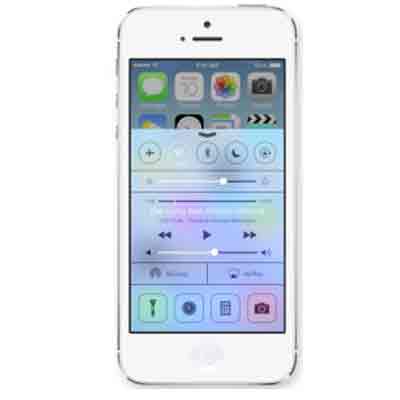 Control Panel: Control Panel is a pull-up tray that is available in your lock screen. You can adjust brightness, volume, and other settings including Wifi, Airplane mode, rotation lock, or Bluetooth. The Control Panel even offers a flashlight, along with tabs for music, camera, and other quick-access apps. The Control Panel takes on the environment it's in, so if you swipe up while you're in mail, it will have the same blue and white colouring under that translucent panel.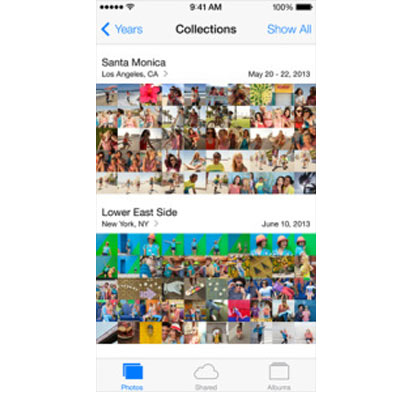 Camera And Photos: The Camera app lets you swipe between your various camera types, such as panorama or HDR so you can quickly take a pic instead of fumbling around with settings. Photos marks the first update to the photo gallery on iOS since it was introduced.You can search based on date, and location, within the photos app. Apple has introduced photo filters so you can add a little professionalism to the picture. Users can share via AirDrop, iCloud photo-sharing, as well as shared Photo Streams. You can even share video with iCloud photo-sharing.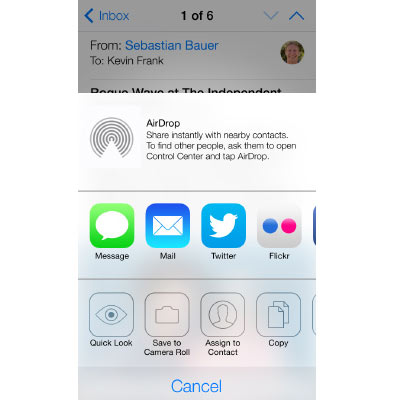 AirDrop: You can share share sheets with other people by simply tapping their name. No NFC required. Airdrop supports iPhone 5, iPad 4th gen, iPad Mini
Apple's Craig Federighi had joked during the keynote that users won't have to go around bumping phones to share files and photos.
Siri: iOS 7 also has a new voice, a new interface and sound wave at the bottom.You can choose a male or female voice, if you like. Voices include languages like French, German, and other languages "over time." The visual UI has also been upgraded, with a sound wave going along the bottom.
Siri has also been integrated with settings, letting you tell her to turn on bluetooth, or lower the screen brightness. The company has also added support for Twitter, Wikipedia, and shows web search results direct from Bing.
Find My iPhone: The new feature ensures that if your phone is stolen and somebody tries to turn off Find My iPhone, they will require your Apple ID and password. Also the Apple ID and password are will be required before anyone can reactivate the phone. Users can also block messages and calls from other users.
Safari: Safari opens straight into full screen mode now, with the option to pull down to bring up the search bar at the top.The search field has been improved to be a unified smart search field, which lets you have access to all your favourite websites with a single tap.Tabs come with a totally new interface, scrolling in a vertical carousel, and there are no longer any limits. In other words, you can have as many tabs as you want, as opposed to just 8 like before. Swipe a tab off to the side to throw it away. The new Safari is integrated with iCloud keychain from OS X Mavericks, and also comes with parental controls.
iOS in the Car: iOS in the Car depends a lot on Siri.It puts the iOS home screen on the screen of your car, and lets you search for directions, listen to music, etc.
App Store: You can now search for apps based on location. In other words, search for apps by the Louvre and see a lot of French museum apps The App Store also automatically updates apps for you in the background now.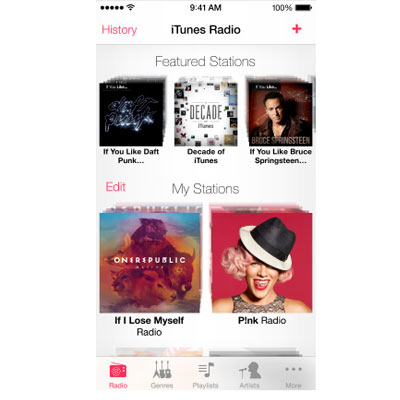 iTunes Radio: Apple has finally introduced the much-anticipated iTunes Radio, which gives a Genius-like experience to the entire 26-million title iTunes catalogue. You can see the full list of songs on each station by clicking history, with purchase and preview buttons built right in to send you to the iTunes store. iTunes Radio also lets you customise each station by clicking a star to show that you want more of this type of music.iTunes Match users will get an ad-free experience, but others will be able to use the app for free with a few audio and text ads.
The executives also showed off a new line of Mac computers and said that updated Siri voice software used on the iPhone now incorporates Microsoft Corp's Bing search engine.
iTunes Radio, which will compete against Pandora Media Inc , allows users to customise by genre and personal taste. The service is free with ads across Apple's devices, including Apple TV. It is free of ads for subscribers to iTunes' Match, a digital content feature. 
Apple plans to make iOS 7 available in the fall.
The iOS will be compatible with iPhone 4, 4S and 5. It will also work with iPad 2, 3 and 4 and iPad mini and iPod touch.
Tasneem Akolawala