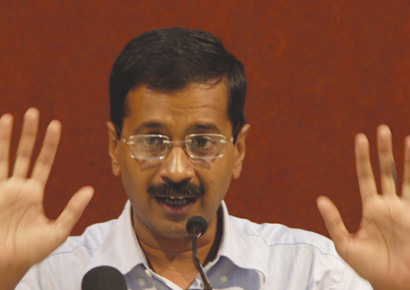 India Against Corruption (IAC) activist Arvind Kejriwal, who was to lead a group of 300-odd physically challenged people to the Prime Minister Manmohan Singh's residence, was detained by the police near the 7, Racecourse Road, in the capital on Friday.
Apparently, the police rounded up Kejriwal and his supporters after warning them to clear the road.
While Kejriwal had said he wanted to submit a letter to the prime minister that contained the details of his allegations against union law minister Salman Khurshid, Prime Minister Manmohan Singh refused to meet him, saying he had prior appointments.
However, reacting to their being stalled by the security, Kejriwal said, "It is utter shame that Prime Minister Manmohan Singh should seek a security cover comprising thousands of securitymen to keep a bunch of physically challenged people at bay. This is not democracy."
Kejriwal, who has demanded the resignation of Union law minister Salman Khurshid over the siphoning of funds of a charitable NGO that his wife Louise runs, is now staging a sit-in at the spot where he was stopped by the securitymen. "Earlier, we were seeking the PM for a time when he could meet us, but now we will wait till the time the PM speaks to the people of this country."
Refusing to budge, Kejriwal said, "This is not democracy. The government is supposed to serve us and not lord over us."
Demanding that a police complaint be filed immediately against Salman Khurshid and his wife, Kejriwal said, "Salman Khurshid should be removed from the cabinet till proven innocent. Both of them are influential people, they can tamper with evidence and pressure witnesses. They should be arrested immediately."
"Let's make this place another Tahrir Square (the focus of anti-regime protests in Egypt last year). People should take leave (from work) and join the protest. Now it's a fight to the finish. The prime minister will have to meet us and accept our demands. Khurshid has to resign. He should be arrested," he said.
Khurshid is planning to sue social activist-turned-politician Kejriwal for his allegations.